Partner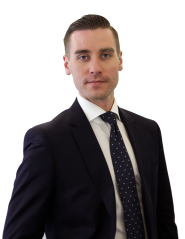 Kabakov advises Russian and foreign clients on a wide range of issues of corporate, commercial and contract law, and also assists clients at all stages of transactions (legal analysis, structuring, and completion). Kabakov also has extensive experience advising on taxation, tax calculation and payment, as well as refund of overpaid taxes and VAT. His legal acumen also touches upon issues of labor law, including the structuring of complex relationships with employees at Russian subdivisions and the representation of interests in legal disputes with employees and in collective negotiations.
On numerous occasions, Kabakov has successfully represented clients' interests in commercial and tax disputes in courts, as well as in government institutions in case of administrative process. Recently, he has been providing legal support to major companies to optimize the corporate restructuring and activities of their subsidiaries in Russia.
Kabakov graduated from St Petersburg State University with distinction. Anton is fluent in English.
To read articles by Anton Kabakov click here.